Which Toyota vehicles can tow?
Toyota offers a variety of vehicles with great power and efficiency. When it comes to towing, Toyota vehicle's capabilities vary based on model and trim level. It's always important to read your owner's manual before attempting to tow to ensure you do not exceed your vehicle's towing limit. Those who are searching for a Toyota with the most towing strength, look no further! Check out our list below of the recommended Toyota vehicles and what they're maximum towing capabilities are.
By no surprise, our Toyota trucks have excellent towing capabilities. Offering power and performance to assist you, you can rely on the Toyota Tundra & the Toyota Tacoma. Our Toyota trucks have no problem getting you, your passengers and what you want to bring to point A to B.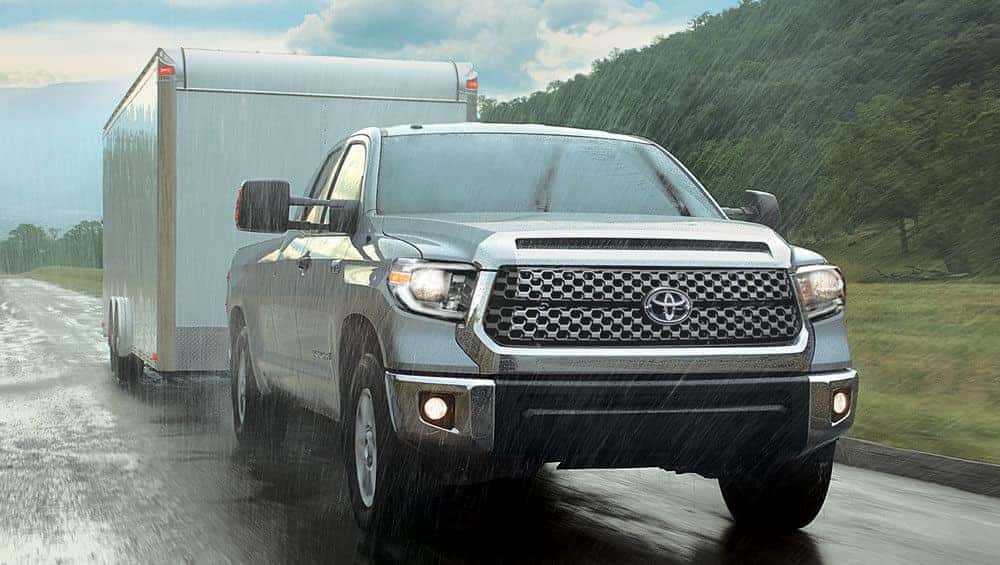 2020 Toyota Tundra: When it comes to towing capabilities, it's hard to beat the power the Toyota Tundra has. The reliable truck gives you the power to tow up to 10,000 lb. The impressive 5.7 Litre, i-FORCE V8 engine with 381 hp @ 5600 rpm & 401 lb.ft. of Torque @ 3600 rpm can get any job done. Driving with the available Tow/Haul mode system expands the use of your lower gears and will enhance acceleration, downhill engine braking, and pulling power while you're towing a large load. It's equipped with a powerful 13.9-in. front Brake Rotors and 4-piston calipers, so when you're towing, you have the confidence your vehicle and your trailer will come to a safe stop.
2020 Toyota Tacoma: The Toyota Tacoma is ready for any challenge. No matter where you go and what you bring, the Tacoma is ready with its powerful towing capacity of up to 6,500 pounds. And the 3.5 L Atkinson cycle V6 engine with D-4S Fuel Injection and offering 278 hp at 6,000 rpm and 265 lb.ft. of torque at 4,600 rpm will help you get there.
Interested in purchasing a Toyota? Check out our inventory here.
Toyota SUVs deliver on power, torque and intelligent efficiency, giving you the freedom to get to where you want to go. Our SUVs also offer towing capabilities letting you make the most out of every drive.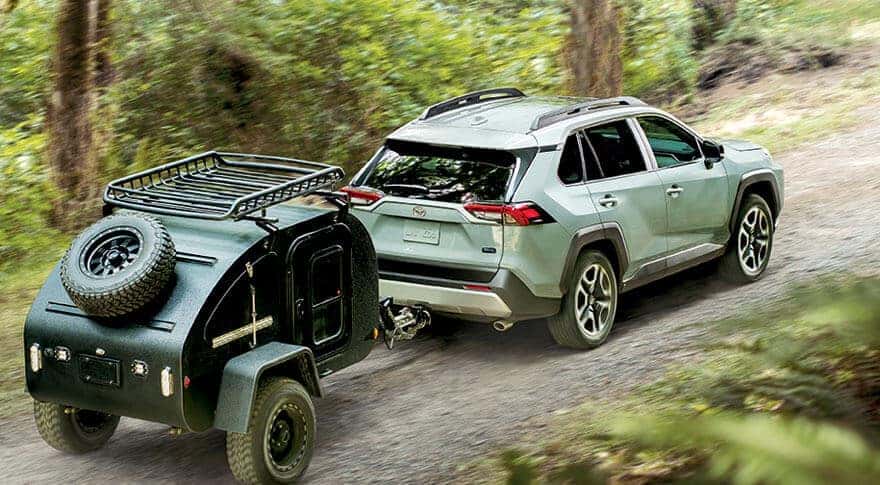 2020 Toyota RAV4: The RAV4 offers great strength with its 2.5 Litre, 4-Cylinder engine, with 203 hp & 184 lb.ft. of Torque. Toyota recommends the RAV4 AWD TRAIL and TRD Off-Road for towing as it can tow up to 3,500 lbs.
2020 Toyota Highlander & Highlander Hybrid: The all-new Highlander is ready to take you where you want to go. It offers two powertrain options that deliver horsepower, torque, and outstanding fuel efficiency. With a 3.5 Litre, V6 Engine with 295 hp @ 6600 rpm & 263 lb.ft. of Torque @ 4700 rpm. The Highlander provides impressive towing capabilities that can haul up to 5,000 lbs and 3,500 lbs for the Highlander Hybrid model.
2021 Toyota 4Runner: The 4Runner features a strengthened body-on-frame construction and 270 hp V6 engine, which has the exceptional power to tow up to 5,000 lb.
2020 Toyota Sequoia: The Sequoia has a truck's power, but a body like an SUV. It offers a powerful 381 hp 5.7L i-FORCE V8 engine with up to 7,100 lbs of towing capacity.
Ready to experience Toyota's towing capabilities yourself? Check out the inventory here.
Have any questions on a vehicle you're interested in? Contact us today at +1 (416) 292-2241