Toyota RAV4 Hybrid Highlights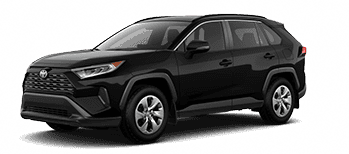 The Toyota RAV4 Hybrid is a great compact SUV, especially if you want your family to fit comfortably in a vehicle. This car has experienced a lot of updates across the years, and the 2022 Toyota RAV4 Hybrid is the newest one.
If you are wondering why you should choose the 2022 Toyota RAV4 Hybrid for your next vehicle, we shared five reasons in our last post and four more reasons when you continue reading.
1. Classic Interior Design
The 2022 Toyota RAV 4 delivers a straightforward cabin design that you would expect from this model. 
If you get the LE or XLE trim, you get high-quality cloth seating. In the other trims, you will enjoy premium leatherette upholstery on all of the seats with precise stitching and perforation. Prospective buyers can also opt to go for black or beige, depending on their personal preference.
The dashboard and door cards come with the same quality of soft leatherette. The designs are enhanced with silver accents and elegant contrast stitching that elevates the appeal. Once you check the other interiors, you will be greeted with aluminum and chrome accents, premium leatherette trims, and soft-touch plastics.
Overall, everything looks very put together and well-constructed, without rattling sounds and gaps.
2. Sharp and Safe Brakes
Like other RAV4 Hybrid models, the brakes are clean and sharp. You don't have anything to worry about anything because the overall braking performance is very satisfactory. There are four-wheel disc brakes with 12-inch front rotors and 11.1-inch rear rotors. The brakes also come with added features like brake assist, hill hold control, ABS, EBD, and ventilated front discs.
Users of the 2022 Toyota RAV4 also report how the brake progression is top quality, and the vehicle does not feel twitchy even when you hit the brake from high speeds.
3. Beautiful Exterior Design
To match the vehicle's interiors, the exteriors of the Toyota RAV 4 Hybrid are just as beautiful. The major difference across models is the headlights. Compared to before, it now looks more aggressive. It also features LED lights, a pentagonal grille, gray accents, and a blacked-out air dam. In comparison to similar models in other brands, the RAV4 Hybrid has better height and ground clearance.
In terms of exterior colours, you have numerous options. You can get Magnetic Gray Metallic, Lunar Rock, Silver Sky Metallic, Blizzard Pearl, and Cavalry Blue for a two-tone design. On the other hand, you can also get the car in White, Midnight Black Metallic, Ruby Flare Pearl, and Blueprint.
Moreover, the car's wheels are 18-inches, and its wide side mirrors give the car a more rugged vibe. In the rear end, you'll get to access a roof spoiler, silver skid plate, and LED taillights.
4. Satisfying Build Quality
Lastly, enjoy the build quality of the 2022 Toyota RAV4 Hybrid. The construction is mainly high-tensile steel and aluminum. Because of this feature, the vehicle now has high crash safety ratings from NHTSA and IIHS. 
Final Thoughts
To sum it all up, the 2022 Toyota RAV4 Hybrid is an excellent compact SUV. Its well-constructed cabin, beautiful looks, and outstanding build quality make it one of the most desirable vehicles today.
Get your hands on a 2022 Toyota RAV4 Hybrid by contacting us at Brimell Toyota, the best Toyota dealer in Toronto. Check out our available inventory or drop by our showroom today!
You can also view the 2022 vehicle brochure here!